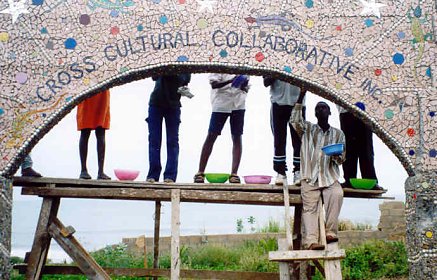 Cross Cultural Collaborative, Inc. is a non-profit educational organization that promotes cultural exchange and understanding. Our programs emphasize multigenerational and multicultural collaborations encouraging participants to find rewards in different forms of creativity. We bring artists from different cultures together in a supportive environment where they can get to know each other through the language of art. At the core of our program is the belief that interaction between African and non-African artists enriches the creativity of both groups.
CCC, Inc. invites artists and scholars from all over the world to work with Ghanaians on collaborative projects that range from mosaic walls to documentary films. Most visitors to Ghana have only a superficial connection with the people. We find that by bringing people to live and work at CCC, Inc. we break down stereotypical thinking. Our participants form lasting friendships and come to appreciate not only other cultures, but their own as well.

Visitors have an opportunity to be immersed in a spiritual culture grounded in tradition where art is part of everyday life.

Sent to Artezano Links:
Hello Rachel,

What a wonderfully informative blog.
Perhaps you'd like to add us. We are a non-profit working in Ghana, West Africa.
We sell handmade paper and books made by Ghanaian children. We use the money from sales to pay school related expenses.
We also offer African textile workshops every summer and we sell crafts made by African artisans.
Our website is at http://www.culturalcollaborative.org.
Thanks,
Ellie Schimelman
Cross Cultural Collaborative, Inc.